Web Site © Copyright
2007-2018 by Colfax
Township, Michigan
and ATI Consulting

All rights reserved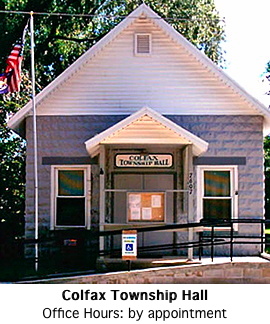 WELCOME TO COLFAX TOWNSHIP

Colfax Township is situated in the southeast corner of beautiful Benzie County in Michigan's northwest Lower Peninsula. Its residents enjoy the area's quiet rural character yet have the convenience of services offered in nearby Benzonia and the villages of Thompsonville and Beulah. The larger cities of Manistee, Cadillac and Traverse City are an easy drive from the township, between 29 to 39 miles away. The township is about 40% state land with a population of 657 residents according to the 2010 census.



Colfax Township offers residents and visitors a variety of seasonal activities.
Early spring is a great time to enjoy the outdoors, and the township has over ten thousand acres of state land to explore, much of it along the Betsie River. Don't forget your camera!
In May the hunt is on for morel mushrooms just as trilliums begin to bloom.
During the summer the Betsie River is well-known for canoeing, kayaking, tubing and fishing and offers many access points.
The Betsie is a designated Natural River and an important natural resource that runs through the entire township.
Camping at the township's rustic Grass Lake Campground on the Betsie River and golfing at nearby Crystal Mountain Resort are also popular summer activities.
Salmon fishing takes center stage in September (check the DNR website for rules and dates).
There are many trails to travel on state land throughout the year by foot, bike or horseback and are especially spectacular when fall colors are in full display.
Winter months offer outdoor enthusiasts many choices, including downhill and cross-country skiing, snowmobiling, snowshoeing and sledding.
ORVs/ATVs are permitted in the township only on designated roads (not on state land or trails) in accordance with the Benzie County ORV Ordinance. A current year State of Michigan ORV sticker is required.
NOTICES of UPCOMING EVENTS:
•
Saturday,
June 9, 2018
Township Cleanup Day. Drop-off hours are 8:00 AM to 12:00 PM on Gallagher Road at Industrial Park Drive in the Village. Cards will be mailed to property owners and must be presented. See the Community News, Information and Events page for important details.
[Posted 1/17/2018]

ANNOUNCEMENTS:
•
An approved zoning permit is required for certain land uses and in some cases prior to issuance of a permit by Benzie County. Some examples include adding or changing a dwelling, garage, shed or structure; installing a sign, fence, solar panels or swimming pool; operation of certain home occupations or a commercial business; and demolition of a structure. Some permits are issued without a fee; an additional fee may apply for not obtaining a zoning permit in advance. Also, there are land uses that do not require a permit but must meet zoning ordinance requirements. A violation of the zoning ordinance may result in fines and costs and correction or removal of the violation by court order. Find out about permits and requirements by contacting the interim zoning administrator Mark Draeger at 231-378-4135 (alternate contact: Shelley Greene, 231-378-2334) or checking the Joint Zoning Ordinance in this Web site.
[Updated 1/17/2018]
•
YOUR township needs help. Residents in the Township and the Colfax side of the Village are needed to fill vacancies for Library Board, Election Officials, Board of Review and Joint Planning Commission. It's true…no experience is necessary, none of the positions require a lot of time and most of them offer compensation. Thank you to those who have signed up! To learn more, call Ron Evitts at 231-383-1749 or Shelley Greene at 231-378-2334.
[Posted 10/21/2016]
•
A new joint zoning ordinance went into effect May 15, 2015 for Colfax Township, Weldon Township and the Village of Thompsonville. See the following links:
- Greater Thompsonville Area Zoning Ordinance
- Greater Thompsonville Area Zoning Map
These and the zoning permit applications are on the Documents and Forms page.
[Posted 5/23/2015, updated 5/31/2015]