Web Site © Copyright
2007-2014 by Colfax
Township, Michgan
and ATI Consulting

All rights reserved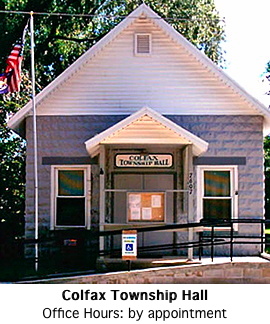 WELCOME TO COLFAX TOWNSHIP

Colfax Township is situated in the southeast corner of beautiful Benzie County in Michigan's northwest Lower Peninsula. Its residents enjoy the area's quiet rural character yet have the convenience of services offered in nearby Benzonia and the villages of Thompsonville and Beulah. The larger cities of Manistee, Cadillac and Traverse City are an easy drive from the township, between 29 to 39 miles away. The township is about 40% state land with a population of 657 residents according to the 2010 census.



Colfax Township offers residents and visitors a variety of seasonal activities.
Early spring is a great time to enjoy the outdoors, and the township has over ten thousand acres of state land to explore, much of it along the Betsie River. Don't forget your camera!
In May the hunt is on for morel mushrooms just as trilliums begin to bloom.
During the summer the Betsie River is well-known for canoeing, kayaking, tubing and fishing and offers many access points.
The Betsie is a designated Natural River and an important natural resource that runs through the entire township.
Camping at the township's rustic Grass Lake Campground on the Betsie River and golfing at nearby Crystal Mountain Resort are also popular summer activities.
Salmon fishing takes center stage in September (check the DNR website for rules and dates).
There are many trails to travel on state land throughout the year by foot, bike or horseback and are especially spectacular when fall colors are in full display.
Winter months offer outdoor enthusiasts many choices, including downhill and cross-country skiing, snowmobiling, snowshoeing and sledding.
ORVs/ATVs are permitted in the township only on designated roads (not on state land or trails) in accordance with the Benzie County ORV Ordinance. A current year State of Michigan ORV sticker is required.
NOTICES of UPCOMING EVENTS:
•
Public hearing regarding the Joint Zoning Ordinance for Colfax Township, Weldon Township, and the Village of Thompsonville. Date, time, and location to be announced.
•
Sunday, October 5, 2014 – 9th Annual Betsie Valley Run – a great destination event! Half marathon (certified), 10K Run/Walk, 5K Run/Walk and Child's Mile. Presented by Friends of the Betsie Valley District Library and Crystal Mountain Resort. Visit www.betsievalleyrun.com to learn more and register.
•
Tuesday, November 4, 2014 – General election. Polls open at 7:00 a.m. and close at 8:00 p.m.

ANNOUNCEMENTS:
•
Summer taxes are due September 14, 2014. Since the 14th is a Sunday, the treasurer will be available to accept payments by check or money order (no debit or credit cards) on Monday, September 15, 2014 from 9:00 a.m. to 5:00 p.m. at the Colfax Township hall. The hall is located at 7607 Michigan Avenue in the Village of Thompsonville. Payments by mail must be postmarked no later than September 15 to avoid penalty.